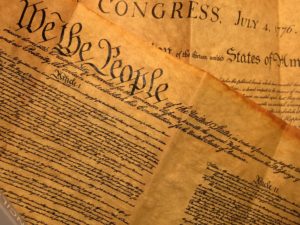 U.S. and Wyoming courses accepted from the University of Wyoming and Wyoming community colleges
Listed below are the five Wyoming college and university courses that PTSB accepts to fulfill both U.S. & Wyoming Constitution requirement:
HIST 1211: US History to 1865
HIST 1221: US History from 1865
HIST 1251: Wyoming History
POLS 1000: American & Wyoming Government
ECON 1200: Business, Law, & Government
Transfer students who completed US Government or US History elsewhere may have fulfilled the Wyoming Government portion by completing:
POLS 1000 XM: American & Wyoming Government with a grade of "S" for 1 credit by exam through the Political Science Dept.
POLS 1100: Wyoming Government
U.S. & Wyoming Constitution
Applicants may meet the requirement for Demonstration of Knowledge of the United States and Wyoming Constitutions in either of the following two ways:
Demonstration of Knowledge through Coursework
Courses which demonstrate knowledge of the U.S. Constitution must cover U.S. History prior to 1865 and include the study of the Constitution. Political Science courses may be counted if the coursework included study of the Constitution. If there are questions about the content of the curriculum, PTSB may require an applicant to submit course descriptions. Graduates from a Wyoming Community College or the University of Wyoming have completed this coursework, however must have passed the course with a "C" or higher.
When submitting your application packet, please highlight the courses which meet the requirements of constitutional study on your official college transcript.
---
Demonstration of Knowledge through Examination
If you have not completed coursework to meet the requirement of U.S. and Wyoming Constitution Study, you may demonstrate knowledge through an exam. PTSB has created two multiple choice exams (20 questions each) which may be taken at any Wyoming school district administration office or the Professional Teaching Standards Board office. Please see the links to the study guides below.
---
What if I live out of state?
You may take the exams by proxy. To have the test sent to a proctor, please send an email to vog.o1553260385yw@bs1553260385tpoyw1553260385 and include the proctor's full name, title and contact information including email address. Proctors must be a school district administrator, a university/college professor, or a librarian.
U.S. and Wyoming Study Guides:
U.S Constitution Study Guide (Updated 01/11/2019)
Wyoming Constitution Study Guide (Updated 01/11/2019)